I knew that this beautiful weather we have been having was too good to be true. In true Missouri fashion, we are under watch for thunderstorms today and may be in threat for some strong thunderstorms over night (there's goes a good nights sleep for me...). When I took Keeley out this morning, you could get a distinct line of the weather front coming my way. I took some photos for you all to see. PS, don't yell at me for taking photos while driving, I was being extra careful, I PROMISE!!
Now onto your regular scheduled Wednesday post: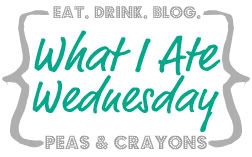 Breakfast - Green Smoothie!!
Pineapple, peaches, spinach, chia seeds, vanilla protein powder, and some orange, mango, pineapple juice. Thanks goes to
The Concrete Runner
for the idea. :)
Dinner - Half of a Grilled Chicken Breast that I marinated in a lime mojito marinade and another big green salad with carrots, tomatoes, celery, cheese and a small amount of ranch dressing.
Some of these may have been consumed also......
Can I just point out, I had green in ALL 3 of my meals!!!!! That's a first for me. Green in a breakfast for me is hard, but the spinach in a smoothie makes it possible. :)