Nothing says, "Yay for Friday" like being up since 3:30 AM! I don't mind though because I think Luke is dealing with some kind of stomach bug or else his stomach doesn't handle summer squash very well....I have no idea what's going on.
Luke came home in different clothes than we brought him in yesterday (daycare can't answer what happened). I am guessing he got sick all over those clothes. I then checked his daily sheet from daycare and he didn't eat much or sleep much at all. So we let him play in his jumperoo but he just wasn't having it. A couple moments cuddling on Mommy and Luke fell asleep. So we let him sleep until 7 PM, woke him up for a bath and some bottle and then back down for the night. He took a couple minutes to settle down in bed but was fast asleep by 8 PM and Mommy was fast asleep by 8:15 PM. He woke up once at 1:30 AM but he was just babbling and kind of whining, not crying like he was hungry. He was able to put himself back to sleep and was back up at 3:30 AM. I went in to get him and his sheets and jammies were covered in throw up. Poor buddy. I felt so bad that I left him like that too....but I had no idea. So I changed him and his sheets, fed him a bottle and laid him back down but he just wasn't having it. I went back into his room and rocked him asleep and decided to bring him in our room to sleep in the Rock n Play. Woke him back up at 5:30 AM to get him a bath and changed and to daycare. I feel like an awful mother for sending him to daycare but he has no fever and my boss is on vacation so it's tough for me to take the day off right now.
After his bath this morning.
So here I am, trying to stay awake and counting down the hour's until I am off work today....yeah it's one of those days.
Let's get to Five on Friday after that novel....
We are not big sports people but still plan on watching some of the Superbowl. Especially since I think the Patriots cheated to get into the Superbowl, so GO SEAHAWKS and kick the Patriots butt! But I plan on making some Buffalo Chicken Dip to snack on that day. I am excited for the half time show with Katy Perry though!
We are Pampers fan's in our household. I was noticing that we are needing to stock up on more diapers and looked at Target's ad and what do I find, that Pampers diapers have a HUGE deal this week. Buy 2 boxes and get a $15 Target gift card!! So I purchased 4 boxes. I also had 4 coupons where if you purchased a box of Pampers diapers, get a free pack of wipes. SWEET, another $7ish savings! So I went to checkout and my cashier along with her cashier friend tried to make it out that I couldn't use my manufacture's coupon because I was getting the gift cards and those "essentially made the wipes free". Uhhhhh no, get your manager. So the manager comes over and tells the cashier that I am right and fixes the wipes to being free. I received $30 in gift cards and those wipes for free (a $7.92 savings).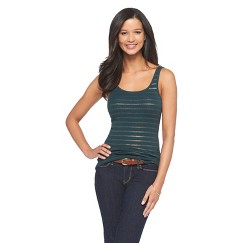 I found this tank yesterday at Target on clearance for $5! I then had a cartwheel coupon for an additional 20% off so I picked this up for $4! I love these tanks because they are perfect to layer with work outfits. They are comfy but nice enough to wear at work.
I don't want Luke to grow up too fast, but with him doing so well eating in his high chair, I thought I would start finding the perfect sippy cup for him to drink from at the high chair. I found this one yesterday and am excited to let Luke try it out this weekend once he is feeling better. I know the opening is a bit bigger than he is use too, but I think once he gets the hang of it, he will love it!
I am LOVING my new Ello Water bottle that I purchased from amazon! It's a glass water bottle that I can drink essential oils from. This week I have been drinking water with lime essential oil like it's going out of style.
Happy Friday ya'll and wish me luck in staying away today! :)