Why say GOOD MORNING, when I can show it! :)
This morning started off like all the others, tired and trying to roll myself out of the bed.....Smokey came and slept with me for a couple hours this morning too; he loves me, what can I say. Andy wasn't feeling the best last night and is feeling a bit worse this morning. Boo :( I hope he is getting lots of rest and love from Smokey and Keeley today while he is at home sick. I drove to work with a cup of coffee in hand, wearing a new dress (love it by the way) and listening to some *NSync. Have you heard the rumors? Supposedly, *NSync will reunite on stage at the VMA's (MTV Video Music Awards). If this is true, I might freak out!!
Anyways, lets get to our Wednesday topic at hand: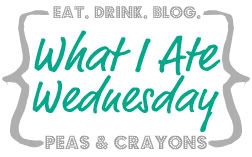 My "Go-To" breakfast as of lately:
some kind of fruit (Strawberries on Tuesday, Wednesday and Thursday)and some low sugar oatmeal from Quaker Oats
My water bottle for the past couple of days....I love how it is a liter of water.
My goal is to drink at least 2 of these a day.
I do need to recycle this water bottle and use some of my good one's though...
Dinner last night, OMG SO GOOD!
After working out I was starving and I decided that a turkey and cheese melt sounded good, so I came up with my own sandwich "recipe". If you're like me, sandwiches are always better from a restaurant, not at home.
I put a little bit of butter on some break and toasted both sides for a minute. Then I took the bread out, put some sliced turkey and some shredded
Imo's cheese (provel) on top and let the whole sandwich toast for a couple more minutes. Smush the two pieces together and cut diagonally. DELICIOUS!!!
I paired my delicious sandwich with a salad. I added in a little bit of provel cheese, some sunflower seeds and a little bit of French salad dressing. YUM again!!
Here's what the cheese looks like (It's heaven in a bag)
I am trying out a new coffee flavor and some new creamers
Jessica says: love the coffee flavor and love the new creamers!!
The sweet cream flavor is just plain delicious.
The chocolate/caramel flavor makes the coffee taste almost like hot chocolate! (SCORE!)
These opinions are solely my own. I was not compensated for trying out these products. If a company would like for me to try out their new products, please contact me at bettertogetherandforever@gmail.com