I haven't linked up in quite a while for WIAW, and thought I would go ahead and post today. I have found some new fun things to eat, and the usual things that I eat. I am really trying hard to get in the habit of eating more veggies and fruit. I have found that those fruit pouches are a great way to get some fruit in when you're in a hurry and can't eat certain fruits in the store. You can laugh, that's OK, but I am still getting those fruits into my system. :)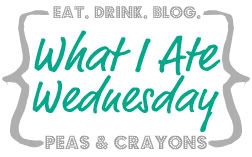 You can't go wrong with Dewey's Pizza!
I forgot how much I loved these! An amazing new greek yogurt flavor!
Fresh blueberries! So delish!
I decided that I would make some blueberry waffles that night for dinner.
2 new Chobani flavors! So far, so DELISH!!
My pre-workout snack Monday
I haven't documented too much on my veggies, that's my goal for next week, get those veggies photographed for you all to see. :)