At least it is in my house! My husband was even commented after our shopping trip to Target on Saturday about my obsession with the smell of pumpkin. LOL! Here is what my weekend of "pumpkin/Fall" looked like:
I picked up a PSL Saturday morning for myself and a White Chocolate Mocha for the husband. YUM! I totally underestimated the "busyness" of Starbucks on a Saturday morning. You know, left the house in PJ's, no shoes on, drove to Starbucks and waited in the drive thru for a good 20+ minutes....if only I had gotten dressed, I could have been in and out a LOT quicker! Oh well, the PSL wait was well worth it!
I decided that my Mixed Berry room spray for the downstairs bathroom wasn't cutting it anymore. Introducing Glade's fall scent: Pumpkin Spice! My only negative on this is that I wish is was more of a "Pumpkiny" smell rather than the over power of "Spice"
I also picked these air fresheners up for the bathroom. Renuizit's "Pumpkin Latte"! We have a white cabinet that sits behind the toilet that holds extra toilet paper, kleenex, cleaning supplies and hides the ugly looking air freshener but makes my bathroom smell nice and fall like! :) We did get these at Target also, but you can purchase them at Walmart too!
My husband is awesome! He knew how much I loved my PSL Saturday morning that when we went down the coffee aisle at Target he found the Keurig Pumpkin Spice coffees and suggested that I try these at home (probably because they are soooooo much cheaper in the long run than constantly going to Starbucks). I did try them and thought they were pretty good! Just add some sweet cream creamer or even french vanilla and you have some pretty tasty pumpkin coffee that wont break the bank AND your waist line!
Knowing me, I wouldn't stop at just pumpkin spice coffee, I just needed to find a pumpkin spice coffee creamer! Found it at Dierbergs (a local grocery store) on sale too!! I did try the creamer with the pumpkin spice coffee and WOW holy pumpkin spice flavor! I wouldn't suggest 2 pumpkin spice flavors all in one. I would suggest a vanilla flavored coffee or just a breakfast blend coffee with the pumpkin spice creamer!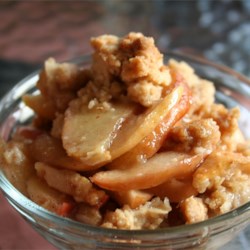 I picked up some apples on my way home Sunday
from shopping and decided that I wanted to make some apple crisp like my mom use to make when my brother and I were younger. Silly me forgot to take photos but here is a photo for you to enjoy of the apple crisp recipe that I made and the actual recipe for you to follow along too!
Ingredients:
10 cups of fresh apples (peeled, cored and sliced)

1 cup white sugar

1 TBSP all-purpose flour

1 tsp ground cinnamon

dash of nutmeg (I added this myself and thought it was a good addition)

1/2 cup water

1 cup quick-cooking oats

1 cup all-purpose flour

1 cup packed brown sugar

1/4 tsp baking powder

1/4 tsp baking soda

1/2 cup butter, melted
Directions:
Preheat oven to 350 degrees F

Place sliced apples in a 9x13 pan. Mix the white sugar, 1 TBSP flour, cinnamon and nutmeg together. Then sprinkle over apples (mix together throughly). Pour water evenly over all the apples and sugar mixture (mix together throughly).

Combine the oats, 1 cup flour, brown sugar, baking powder, baking soda and melted butter together. Crumble evenly over the apple mixture.

Bake at 350 degrees for about 45 minutes.
Serve warm. For an added treat, put the apple crisp over some vanilla bean ice cream and enjoy!