Oh how I LOVE Friday's and how I love to link up for High Five for Friday!!!
Taco Bell brought back the Beefy Crunch Burrito!!! I think Andy has been to Taco Bell at least 3 times this week. :)

Funfetti cupcakes I made for my brother Jeff and my Dad's birthday!

Claire and her "cheese" face. She is so funny!

Me and Jackson last night at the birthday celebration.

Jeff and my dad blowing out the candles on their birthday cupcakes.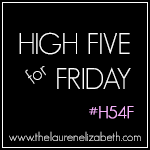 Linking up with Lauren for High Five for Friday!
Some more photos of last night for your enjoyment.
Claire playing basketball with me
Jackson and my Dad, Mya too playing in the yard!
Jeff throwing the baseball and Marley "trying" to catch the ball.
Boys playing baseball
She's so goofy!
YUM CUPCAKES!!
Hi Jackson!!
Why is my camera stretching some of the photos out now??
It looks stupid!
Singing, Happy Birthday!