I live in St. Louis, so if you follow the news you know what us St. Louisian's are dealing with right now. I don't want to give out my opinions on what is happening but I do want to mention how scary it can be lately. I don't live that close to where the shooting happened or the rioting, but I do work near there. Monday was kind of tense around here because we all just didn't know what was going to happen next. Every night Facebook is all a buzz of rumors of where the next riot will take place and it creates more tension. I am hoping that the rumors and rioting dies down because it's just not a fun feeling to live this way.
Robin Williams passing is another sad subject. Andy and I were watching TV when I read of Facebook that he had passed. I realize that I had never met him but to hear that he was dealing with depression really hits hard. I hear someone say that "He never did anything for people to hate him", which is true. He was big in touring with the USO and going to Children's Hospitals and cheering kiddos up. I will forever know him as "Genie" in "Aladdin". The tweet that the Motion Picture Academy's posted on Monday night just really hits your heart. In fact, I have little tears in my eyes just thinking about the resemblance of this quote from the movie to Robin and his battle with depression.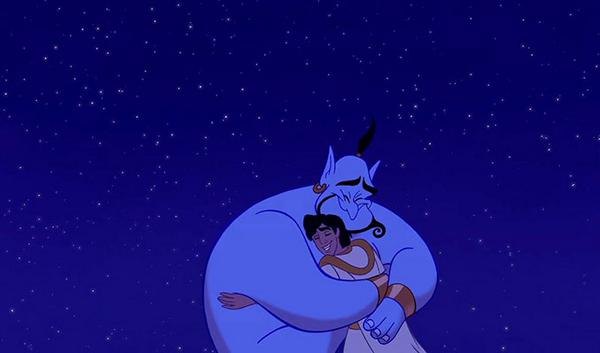 Exhaustion has really started to hit me hard the past several days. Up until last weekend, I was sleeping great, but now it's hit and miss. I can tell that I am getting towards the end of this pregnancy. Today is my 36 week checkup and from here on out I see the doctor every week. It's getting to be crunch time for baby and I really don't know what to think of it all. Not that I am not happy, it's just surreal that he will be here in a month or so!
Ok, that's about where I will stop for now. Until tomorrow when I am back with my 36 Week Bump Date!! :)