Today is Wednesday, the day before the 4th of July!
I keep forgetting that I have tomorrow off for the holiday. It's probably because I have to work on Friday, big BOO over here! But that's ok. My Friday should go by fast, I have lots scheduled and am hoping for a nice, relaxing weekend. :)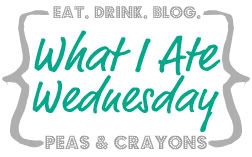 Check out what everyone else is eating
here
.
Monday's dinner: Homemade cheese pizza! It turned out sooo good!
Breakfast: love this Oatmeal!!! It's not the healthiest thing, but it's better than a donut or something else pretty crappy.
Snack: fresh cherries! YUM!!
Tuesday Lunch: soup and salad (it was so cold here yesterday!)
My temp gauge in the car on the way home, yes you are reading that correctly!
59 degrees at one point! For July 2nd?!?!!
Last Wednesday Dinner: Breakfast!! French toast, cheesy eggs and turkey bacon!
Do you all love my Red, White and Blue theme for the frames? Haha! :)
I hope you all have a safe and wonderful 4th of July!